SCHOOL OF ART & DESIGN HARDSHIP FUND
---
CLIENT: PSU College of the Arts / ROLES: Concept, Art Direction, Design, Copy, Videography
COLLABORATORS: Erik Werth, Video Editing
In less than 24 hours, this social media campaign helped raise over $5,000 in emergency funds for art and design students at Portland State University.
When life gives you lemons, make lemonade! This common phrase, which is meant to encourage turning hardship into something positive, was the concept behind this campaign.


"Honestly, it (receiving hardship funds) was such a blessing. At the time I hit some unexpected roadblocks in my life while attending school. I had completely run out of solutions. In the process, I found many valuable resources here in town and on campus but most importantly, I recognize the amount of time and effort everyone put into helping me. Receiving financial assistance made me feel support from the faculty and staff here at PSU." -Mars, Past Hardship Fund Recipient




While the some of the facts and figures can be upsetting, the colorful shapes, custom hand-drawn type, and themed infographics remain upbeat and positive.

This positivity encouraged conversation on the difficult topics of food, housing, and other financial insecurities.




PSU College of the Art's social media pages that were utilized in this campaign have only a few thousand followers in total. Therefore, turning lemons into lemonade was a two part act. We needed to:

1. Share information about the fund with potential donors via social media
2. Encourage students and staff in sharing our message with other potential donors




In order to achieve this secondary objective, #PSUSMILES challenge was born! PSU faculty, staff (including PSU President Stephen Percy), and students all participated.

The video challenge consisted of participants putting a lemon in their mouth and smiling (and crying?) through the sour taste.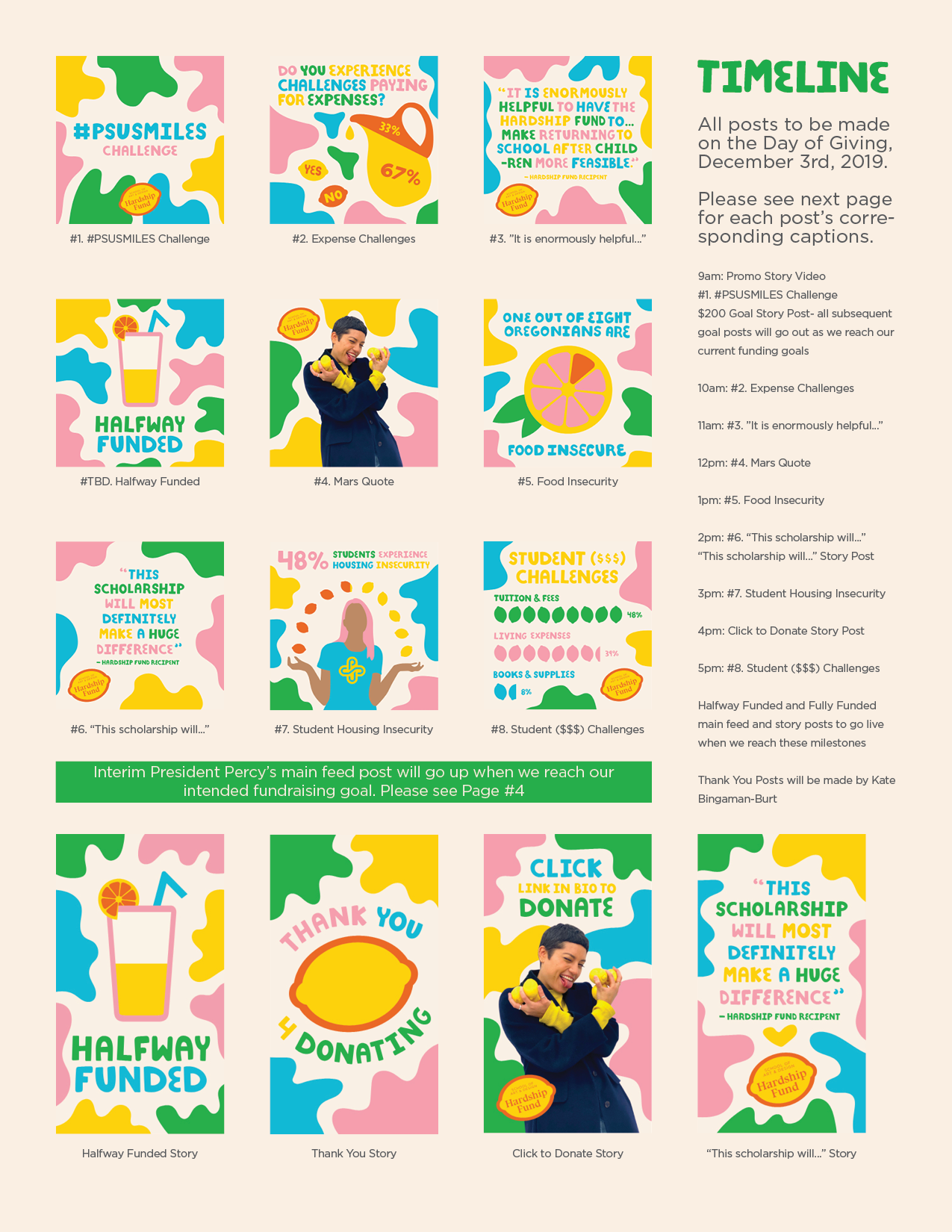 Videos of staff and faculty member who agreed to participate in the #PSUSMILES challenge prior to the launch, were posted to our stories as we hit major fundraising goals.
We thanked our donors live on our Instagram stories. Their names were also posted on a large format fundraising poster. Select donors who gave generously were also send branded thank you cards.
This campaign is still making it possible for students to recieve the emergency funds they need to stay on track and graduate!
Want to give? Contact Sam Peters at sapeters@pdx.edu for more information.